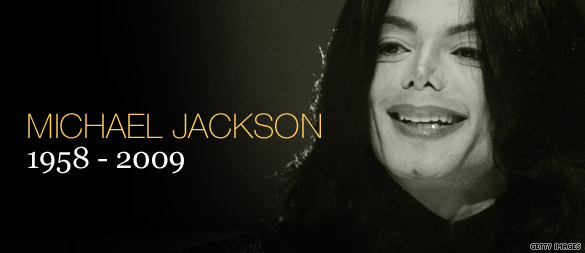 updated 29 secs ago
Entertainer Michael Jackson has died after being taken to a hospital on Thursday after suffering cardiac arrest, CNN has confirmed. Jackson, 50, had been in a coma at the hospital, sources told CNN.
Michael Jackson morre aos 50 anos
Publicada em 25/06/2009 às 19h52m
O cantor Michael Jackson, de 50 anos, morreu na tarde desta quinta-feira, informaram agências de notícias. Ele sofreu uma parada cardíaca à tarde em sua casa e foi levado para o hospital da Universidade de Los Angeles. O astro teria recebido massagem cardíaca para reanimação, informou o site "TMZ", o primeiro veículo a divulgar a notícia.
'Thriller', o videoclipe que marcou a história da música pop
Em 2008, comemoração dos 50 anos
Michael Jackson: um pop star que brilhou na carreira solo
Uma equipe médica teria sido chamada pelo 911 para a casa de Michael Jackson em Beverly Hills, às 12h21m (hora local, 16h21m de Brasília). Ele não estaria respirando quando os paramédicos chegaram ao local, conforme informações da agência Reuters.
O pai do cantor disse ao site TMZ, por telefone, que Jackson "não está nada bem". Outro parente não identificado informou que o estado de saúde do cantor é "muito ruim". Os irmãos do astro estão se dirigindo para o hospital da UCLA.
Ainda não foi divulgado nenhum boletim médico.
Michael Jackson estava preparando sua volta aos palcos na turnê "This is it". Os shows estão marcados para começar dia 13 de julho e seguiriam até março de 2010. O cantor chegou a se submeter a quatro horas de exames para verificar sua saúde, a pedido da produtora de seus shows, a A.E.G. Live.
Esta semana o "The Sun" publicou uma matéria afirmando que Michael Jackson sofria de câncer de pele. Segundo a publicação, ele teria pontos com câncer na parte superior do corpo e células que poderiam desenvolver a doença também no rosto.

Alguns Albuns do astro do pop que se foi aos 50 anos